May in Minneapolis is a beautiful time of year, offering much-needed sunshine and warmth after a long winter. We know you're looking for things to do outdoors, and if you're renting an apartment in Uptown, you're in luck — you're only a few blocks from Bde Maka Ska, the largest lake in Minneapolis. To help you feel inspired to get outdoors, we're sharing 10 of our favorite things to do at Bde Maka Ska.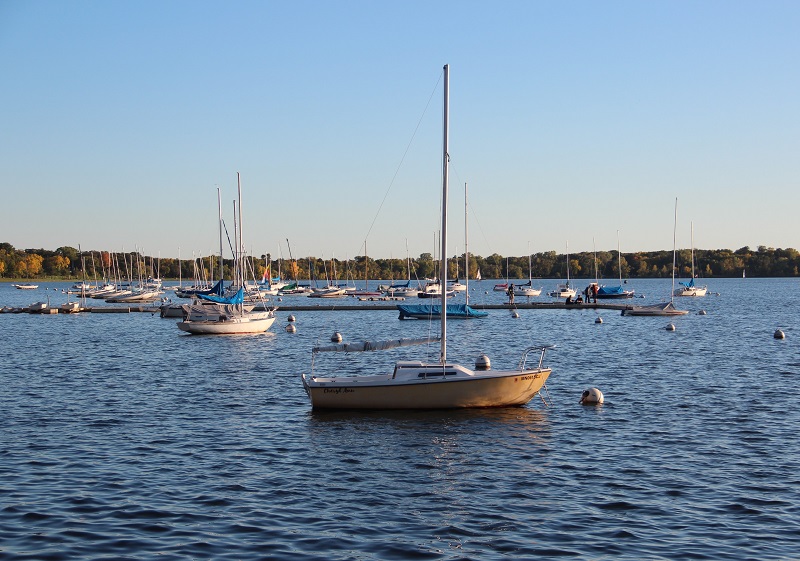 About Bde Maka Ska
Bde Maka Ska is part of the Chain of Lakes in Minneapolis and covers over 518.86 acres, over 400 of which are water. The area is surrounded by city park land, along with bike and walking trails, making it a lovely spot for outdoor recreation.
The Dakota indigenous tribe originally named the lake Bdé Makhá Ská, meaning Lake White Earth. However, when the Army was sent to survey the area in 1817, they renamed the area Lake Calhoun, after then Secretary of War, John C. Calhoun. For over 200 years, the name Lake Calhoun stuck, but in 2020, after a five year battle, the Minnesota Supreme Court determined that the Department of Natural Resources could change the name back to Bde Maka Ska and honor its history.
10 Things to Do at Bde Maka Ska
Go to the Beach
Bde Maka Ska has three amazing beaches, all offering awesome swimming, beautiful walking trails, and a playground for kids.
32nd Street Beach
North Beach
Thomas Beach
Whether you're feeling active and want to go for a swim or you simply want to bask in the sun, you're just a short walk from a summer paradise.
Go Canoeing or Kayaking
If you really want to get out on the water and take in the scenery, you can rent a canoe or kayak and traverse over 401 acres.
Try Archery
Located just south of Bde Maka Ska East Parking lot on Richfield Road is the public archery range. Set in a picturesque area amidst trees and water, you can practice your technique or take up a new hobby with ease.
Take a Bike Ride
With over three miles of bike paths, you can take a leisurely tour around the park or get plenty of exercise. Plus, the bike paths tie into the other paths around the other lakes so you can triple your ride.
Go for a Walk
If cycling isn't your preference, there are walking and jogging paths around the lake, too, making it easy to stay active this spring and summer. While pets are certainly welcome, it's important to ensure they are on a leash and picked up after.
Have a Picnic
There are several picnic areas around the lake if you prefer a table, but there is a lot to be said about spreading out a blanket and putting out a lovely lunch in the grass. This is a perfect way to spend a romantic evening or invite friends for a potluck picnic on a weekend afternoon.
Grab Lunch
If you'd rather let someone else do the cooking, stop by Lola on the Lake. With wings, seafood, and their famous pulled pork, you can feast while taking in the lovely views and plenty of fresh air.
Go Fishing
Near the boat launches, there are several areas for fishing. This is a catch-and-release lake, so make sure you toss back anything you catch.
Play Volleyball
When you want to get some friends together and get competitive, head over to Thomas Beach and play some volleyball.
Rent an Apartment in Uptown, Minneapolis
If you want to be within walking distance of one of the most popular areas of outdoor recreation in the city, we can help. Call us today at 952-927 4144 or fill out the form below to learn more about our apartments for rent in Uptown.
Contact Form
We would love to hear from you! Please fill out this form and we will get in touch with you shortly.