Grand Marais Real Estate & Area Information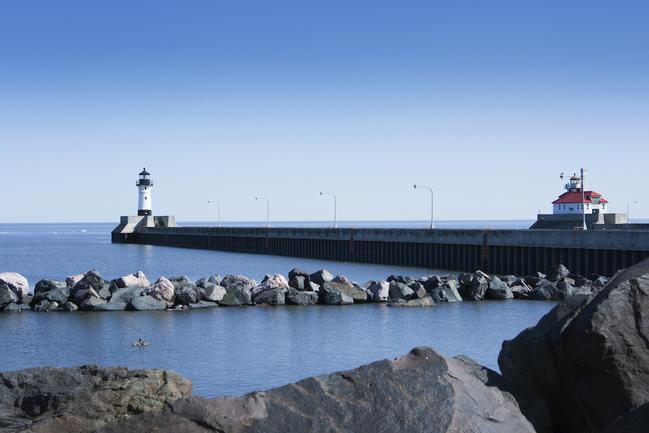 Grand Marais, MN Real Estate
Simply make your selection and see instant results within your price range:
Grand Marais Community Guide for Home Buyers and Sellers
Located in Cook County, Grand Marais is located on Lake Superior in far north Minnesota. With only around 1,400 residents, Grand Marais is a lovely tourist destination.
Grand Marias Name for Great Marsh
Considered the county seat of Cook County, this community was named after the French term for "Great Marsh." The community was appropriately named as such because there was a marsh in the community that, during early fur-trading times, was actually 20 acres. Located at the head of a small bay and harbor in the area, it was a landmark for early settlers.
Another interesting tidbit: There's a small bay on the east that is less protected from storms in this community. It is separated from the harbor by a slight projecting point as well as a short beach.
This created the allusion of two bays for early inhabitants, which is why the Ojibwe name for the area is Gichi-biitoobiig, which means "great duplicate water," "parallel body of water" or "double body of water" (like a bayou).
But Grand Marais is much easier to pronounce!
Residents Enjoy a High Quality of Life in Grand Marais
This 2.9-square-mile community definitely seems to know how to pack a lot of fun into such a small area!
After all, there are several festivals held here each summer.
One is the Dragon Boat Festival, which is held during the last weekend in July. During this event, boasts shaped like dragons tour the water. Proceeds go to three North Shore non-profit organizations as a result, including WTIP Radio and the North House Folk School.
Meanwhile, the Fisherman's Picnic is held in Grand Marais during the first weekend in August. This event harkens back to the days when the area's economy was based on logging and commercial fishing. During that era, the community would gather for a shoreline potluck picnic featuring a fish fry of fresh Lake Superior herring.
This community also is home to a number of historic buildings as well, which is sure to impress the history buff in your family.
Grand Marias attractions include:
Naniboujou Lodge
Lutsen Resort on Lake Superior
And those who love the performing arts will find they have plenty of options as well within Grand Marais, including:
The Grand Marais Art Colony
The Grand Marais Playhouse
The North Shore Music Association
Grand Portage National Monument
Grand Marias is the Mecca for Outdoor Enthusiasts
Meanwhile, this community also boasts a treasure trove of outdoor recreation opportunities as well.
Some of these attractions include:
Boundary Waters Canoe Area
Grand Marias Lighthouse
Isle Royale National Park
Superior Hiking Trail Association
Cascade River State Park
Eagle Mountain
Judge C. R. Magney State Park
The Border Route Trail
Gunflint Trail
The Kekekabic Hiking Trail
Pincushion Mountain Cross Country Ski Trail
Grand Marais Recreation Area
Devil's Kettle
Lutsen Mountains
There really is so much to do in such a little area!  Meanwhile, there are some excellent public schools that serve residents living here.
The Schools Serving Grand Marais:
Great Expectations
Cook County Senior High School
Cook County Middle School
Sawtooth Mountain Elementary School
There are also several private schools in the vicinity as well, including:
All Saints Catholic School
Christian Heritage Academy
Christian Life School
Glory Academy
Journey Montessori Academy
Grand Marais Real Estate Experts – Stutsman Realty, Inc
To learn more about Grand Marais, then please contact us at Stutsman Realty Inc.
We would love the opportunity to assist you by answering all of your questions and also telling you about available Grand Marias real estate for sale.
We'll Get Your Grand Marais Home Sold!
Make sure to also connect with us if you're ready to list your current home on the market. We'll walk you through every stage of the home selling process, starting with first determining your homes true value!