We often hear the words "vibrant," "historic, "diverse," and "charming" used when people discuss the appeal of what is currently happening in the Uptown neighborhood of Minneapolis. A city that embraces artistic expression and focuses on the importance of community and culture, Uptown solidifies its place on the map of great neighborhoods to move to in Minneapolis, MN.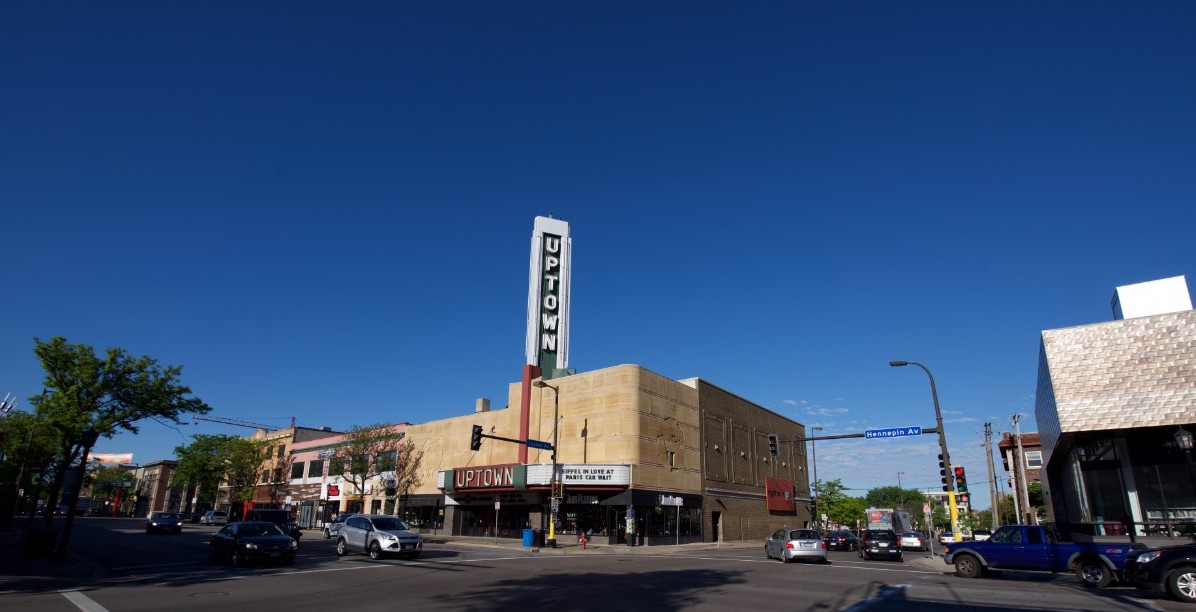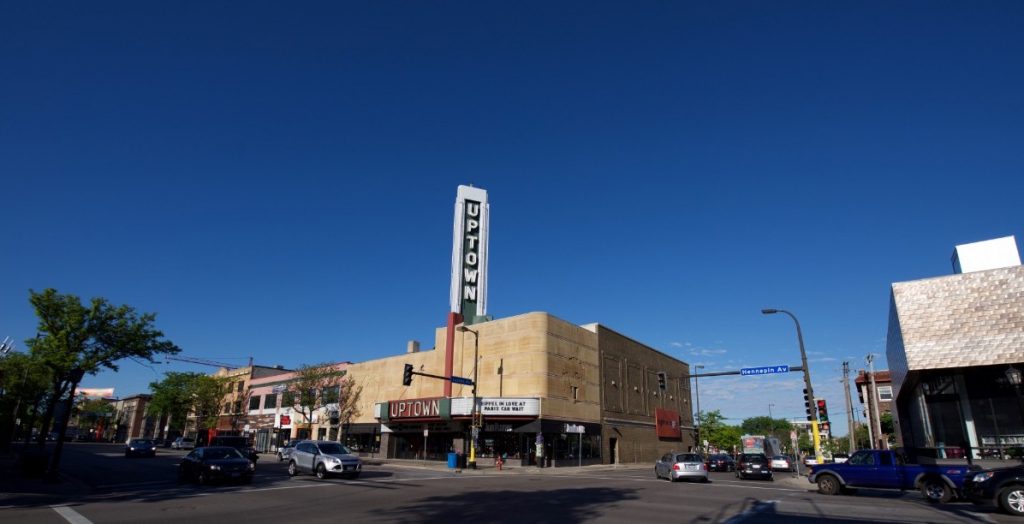 The Historic City of Uptown, MN
What started as a combination of a commercial corridor and family homes, the city of Uptown experienced rapid population growth in the city's downtown area in the 1910s and 1920s. As a result, Uptown soon flourished as a haven for artists, musicians, and entrepreneurs.
While the neighborhood faced some challenges in the 1960s and 1970s as other parts of Minneapolis began to grow, by the 1980s Uptown experienced a rebirth of renovation and was back in the spotlight. This renaissance was due, in part, to the musician Prince's song "Uptown" where he sings of his hometown being a place to "set your mind free."
Modern Day Uptown
In recent years, Uptown has been undergoing yet another fresh start. Thanks to the ongoing efforts set forth by the local arts and recreation center as well as the redevelopment of Calhoun Square, now the Seven Points shopping center, new businesses are moving in. 
With the addition of these new small businesses, the city's renovation efforts, and the eclectic creations of local artists, more and more people are drawn to living in Uptown.  When looking for a beautiful, colorful, walkable neighborhood to move to in the Twin Cities, you should consider Uptown. 
What to Experience in Uptown, MN
One of the things that makes Uptown so popular is the unique placement of the neighborhood so that it functions as both a walkable, vibrant city and a serene natural site for relaxation and recreation.
The Chain of Lakes
While there isn't an absence of parks and lakes anywhere in Minneapolis, Uptown offers close proximity to the best outdoor recreation in the Twin Cities. Located just east of the Chain of Lakes, you can easily walk or bike to Bde Maka Ska and Lake of the Isles. Both offer bike and pedestrian paths, swimming, boating, beach areas, and of course, ice skating in the winter. Additionally, the beautiful Lake Harriet and the famous Bandshell Park where they have free, live concerts through the summer are just south of the area, too.
Incredible Architecture
Much of the Uptown area's buildings were built between the 1910s to 1930s. Walking through the Uptown neighborhood you can easily see that the architecture reflects its time. If you love historic buildings and established neighborhoods, there's no shortage in Uptown. Here, you'll find art deco, craftsman, and Victorian-style homes. The apartment buildings and commercial buildings in Uptown have unique features and gorgeous original elements that represent what was happening in Minneapolis in the early 20th Century.
Sprinkled among its deep-rooted historical architecture, there are plenty of modern structures– from condos, restaurants with rooftop gardens, and the newly renovated Seven Points shopping center, there is a lot of beauty and history on display in Uptown, MN.
What to Do in Uptown, MN
Hennepin Avenue has become a mecca for new restaurants and beloved shops, offering a variety of modern, healthy, and local cuisine as well as other small business ventures beginning to thrive in the lively epicenter.  Whatever your interests, there's something to keep you busy if you are looking to relocate and rent an apartment in Uptown, MN. 
Local Shops and Boutiques
Uptown is all about community and supporting the neighborhood, and that includes supporting local businesses. While there are convenient chain stores, there are plenty of fantastic local shops.
Some small businesses that locals love are:
Magers & Quinn Booksellers: A new, indie, used bookstore where literary events and author signings take place.
Cal Surf: A surfing, skateboarding, and snowboarding gear shop.
Belleweather Boutique: Consignment shop offering vintage clothing and accessories.
H & B Gallery: A high-end antique store loved by local decorators and designers.
Proper: A women's clothing boutique offering the latest trends as well as classic styles.
Seven Points Shopping Center
Located at Hennepin Avenue and Lake Street, the spot formally known as Calhoun Square is being redeveloped as the Seven Points Shopping Center. The mall's many tenants include famous retailers like H&M, indoor and outdoor dining, a ground-level grocery market, and updated landscaping and artwork displays that represent the local community.
Local Restaurants with Global Fare
Hennepin Avenue, Lake Street, and Lyndale Avenue are lined with a fantastic assortment of local restaurants and cafes. Because Uptown is so diverse, the food choices range from upscale bistros to street fare, American classics to French, Indian, and Thai.
Popular dining spots include: 
Sookie & Mimi: Korean and Mexican fusion brought to us by famed, local chef Ann Kim.
Barbette: French bistro with live music and energizing ambiance.
Amazing Thailand: Traditional cultural experience serving Thai classics.
Nightingale: New American bistro serving small plates.
The Lowry: Local gastropub serving great food, cocktails, and microbrews.
Kinhdo Restaurant: Chinese and Vietnamese fare including a ton of vegetarian options.
Namaste Cafe: Indian cafe serving vegetarian eats as well as a variety of teas.
Uptown Diner: All-American fare served in an artsy venue.
Red Cow Uptown: Rustic American gastropub serving up beer and burgers.
French Meadow Cafe and Bluestem Bar: Freshly made baked goods with a focus on local, fresh, organic ingredients.
Exciting Nightlife
The days may be filled with outdoor fun and recreation, but why stop at sunset? Uptown has a hopping nightlife, including rooftop beer gardens, speakeasy-style bars, gastropubs featuring an array of craft beers, and even a champagne bar!
Some favorite spots include:
Up-Down Minneapolis: Local watering hole offering beer, pizza, arcade, and video games.
Troubadour: Intimate lounge offering nightly live music and cocktails.
Volstead's Emporium: Late-night favorite for craft cocktails and American fare.
Trapeze: French bistro with live music and a hip local flair.
Arts & Entertainment in Uptown, MN
There is always something happening in Uptown, keeping the Twin Cities neighborhood full of life and focused on creativity and art. If you are considering moving to Uptown, MN there are endless opportunities to go out into the neighborhood to explore and stumble upon some fun. 
Theater and Film
Uptown has always been an epicenter for art, music, and theater. For theater and cinema fans, the Uptown Theater and Lagoon Cinema are known for arthouse, independent, and foreign films and the Phoenix Theater is a women-operated center for concerts, dance shows, and plays.
The Annual Art Fair
There are small galleries and art houses around the area, but the biggest draw is the Uptown Art Fair. Held every year in August at the intersection of Lake Street and Hennepin Avenue, this event draws crowds of over 250,000 people to the area. In 2019 alone, over $2.1 million in art was sold at the Art Fair. In addition to local artisans, there's live music, food and beer gardens, culinary arts competitions, and so much more to see and do.
Uptown Arts and Rec Center
The Uptown Arts + Rec Center has contributed greatly to the current focus on entertainment and artistic expression in Uptown. Having recently opened a new entertainment venue, that includes art studio space, a speakeasy, a small black box theater, and a 9-hole mini-golf course, Arts + Rec Uptown is making good on its promise to focus on the local community and inspiring people to use their voices through art, music, and performance.
Incredible Architecture
Much of the area dates back to 1910 to 1930 and the architecture reflects this. If you love historic buildings and established neighborhoods, there's no shortage in Uptown. Here, you'll find art deco, craftsman, and Victorian homes, apartment buildings, and commercial buildings that have unique features and gorgeous original elements. Of course, among the history, there's also plenty of modern, including condos, restaurants with rooftop gardens, and the Seven Points shopping center.  
Contact Us for Uptown, MN Apartments for Rent
If you're looking for an apartment in the heart of Uptown, please reach out to us today. Our apartments are in historic buildings, beautifully maintained, and close to Bde Maka Ska as well as popular shops and restaurants. Reach out to us today at 952-927-4144 fill out the form below to get started.
Contact Form
We would love to hear from you! Please fill out this form and we will get in touch with you shortly.