If you want to watch the fireworks but aren't sure where to go or don't know if any displays are planned near you, don't worry! We've put together a list of the best places to watch the 4th of July fireworks in Minneapolis. 
Downtown Minneapolis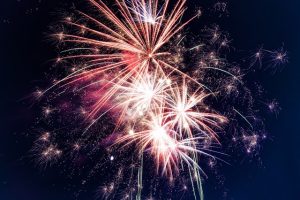 The annual Red, White, and Boom fireworks display is the largest attraction in the area, and before the sky lights up, there's going to be plenty of activities happening at the Downtown Minneapolis Riverfront. Enjoy live music, vendors and food trucks, and free kid-friendly activities until the fireworks start at 10:00 p.m.
If you want the best location to see the Downtown fireworks, you'll get a great view in one of these spots: 
Stone Arch Bridge – This spot fills up fast so get here early!
Gold Medal Park
Nicollet Island 
Bde Maka Ska/Lake Calhoun – It's a little farther out from Downtown but still offers a lovely view, and with so many recreational activities, including grills, volleyball, and paddle boats, you can make a fun day out of it!
Coon Rapids 4th of July Celebration
Coon Rapids holds an all-day July 4th Celebration that includes food trucks, Kids' sparkler dash, and carnival rides along with live music that starts at 6:00 p.m.
At 10:00 p.m., the real fun starts as that's  when the fireworks are scheduled to begin launching from the Anoka-Ramsey Community College grounds. Viewers from previous years say that Coon Rapids' fireworks are some of the best in the state! The carnival area will be between Coon Rapids Boulevard and 111th Avenue, and parking is located at the four corners around Mississippi Boulevard and 111th Avenue. 
Eagan's July 4th FunFest
The city of Eagan is hosting their annual July 4th FunFest that not only boasts a booming fireworks display, there's also a carnival, car show, and live music all held in and around Central Park. The carnival is open at 12:00 p.m., and the music starts at 8:15 p.m., so visitors to this fun event won't be bored waiting for fireworks. 
Roseville's July 4th Party in the Park
If you're near Roseville, their July 4th Party in the Park has something for everyone, but is especially geared toward families. Beginning at 1:00 p.m., there will be plenty of food trucks and stands for snacks, drinks, and more, plus there are carnival activities, rides, puppet shows, and inflatable bounce houses and slides which last until 7:00 p.m. Live music is scheduled all day including the Roseville Big Band and Roseville Community Band. The evening is finished off with a rousing fireworks display over Bennett Lake beginning at 10:00 p.m. 
Bloomington's Summer Fete 
If you've got July 4th plans, Bloomington's Summer Fete is held at Normandale Lake Park on July 3rd.  This year, there's a kids' carnival area with inflatables and a family entertainment stage with kid-friendly entertainment, including a dance party, while on the main stage at the Bandshell, live music for all will be held. At dusk, fireworks will brighten the Bloomington sky! 
Other Fireworks Displays Around Minneapolis
Additional fireworks displays and events are held around Minneapolis and the suburbs! Each one begins at 10:00 p.m. including: 
Have a Safe, Happy July 4th from Stutsman Realty, Inc.!
We hope you get the opportunity to visit one of the best places to watch 4th of July fireworks, but no matter where you choose to spend the Fourth of July, we hope you have a fun, happy holiday! 
If you're looking to make your home in Minneapolis or the surrounding suburbs, call Stutsman Realty, Inc. at (952) 927-4144. With over 25 years of real estate experience in Minneapolis, we can help you find the home of your dreams in an amazing location!