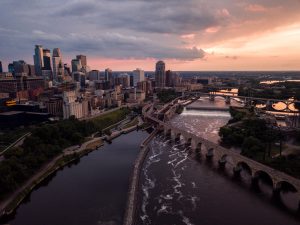 The 2019 Best Places to Live Ranking was just released by U.S. News & World Report, and we are excited to see that Minneapolis-St. Paul was ranked #6 (though we think the Twin Cities should be ranked #1, but we may be biased!). So, what makes the Minneapolis-St. Paul such an amazing place to live? Let's look at some of the top reasons that residents love it here and newcomers are flocking to the area!
The U.S. News & World Report Ranking Method
Before we dive into the reasons Minneapolis-St. Paul ranked so high, let's look at the ranking factors and methodology they use. Looking at 125 metro areas across the United States, the publication compiled data from the U.S. Census Bureau, the F.B.I., the Department of Labor, and other departments and organizations, in addition to survey data. The data was divided into five distinct categories:
Job Market – Unemployment rate, average salary, job market growth
Value Index – Measures the cost of St. Paul and Minneapolis homes for sale with the median household income
Quality of Life – Crime rates, health care quality, education, commute time, and overall well-being
Desirability -Asks people where they would like to live
Net Migration – Determines how many people are leaving the area or relocating to Minneapolis-St. Paul
Looking at the Minneapolis-St. Paul Statistics
Those who work with data often say, "Numbers don't lie," and they do, in fact, give a clear look at what an area can offer to both established and new residents. So, what do the numbers say about the Twin Cities?
Population: Just over 3.5 million people in the Metro area
Unemployment: 2.7 %
Average salary: $56,030
Median home price: $237,367
Median age: 36.8
Average commute time: 25 minutes
Not only is the job market doing well, but the overall economy is solid. With an average salary higher than the national average, coupled with a median home price that's below metro areas of the same size, it's clear that you get a lot of bang for your housing dollar.
Even though the numbers show that Minneapolis-St. Paul is doing great, it doesn't tell you what makes the Twin Cities great – that's what we're here for!
The Twin Cities Metropolitan Area
Minneapolis is the largest city in the state, and St. Paul is the state capital. Together, along with 218 incorporated municipalities, they form the Minneapolis-St. Paul Metropolitan area. The largest suburbs outside of the Twin Cities include:
Whether you live inside the Twin Cities or you choose a suburb, you're never far from great shopping, excellent dining, and plenty of recreation. Minneapolis-St. Paul has excellent infrastructure in place to make commute times quick, and several interstates and state roads connect the suburbs and further neighborhoods to the downtown areas of the Twin Cities, including:
Interstate 35 which runs north-south through both Minneapolis and St. Paul
Interstate 94 which goes through St. Paul and Minneapolis from the east. It also branches into I-694 to direct traffic north of the city and I-494 to the south
State Route 52 runs north-south and connects Inver Grove Heights to St. Paul.
State Route 169 borders the western side of Minneapolis and runs north-south through Eden Prairie, Edina, and Brooklyn Park
A Thriving Job Market
The Minneapolis-St. Paul area has a strong economy that prospers due to the diversity of jobs and industries in the area and is currently home to 16 Fortune 500 corporations, including Target and Wells Fargo. Manufacturing is still the largest industry, specifically electronics, machinery, medical products, and food, but it's certainly not alone. With multiple colleges and universities in the area, a large tech industry has rapidly developed, bringing innovation to the Twin Cities, as well as thousands of new residents.
Other large industries in Minneapolis-St. Paul include:
Financial
Medical and health care
Education
Wholesale
Service & retail
Education Opportunities in the Twin Cities
Minnesota ranks second in the United States in the percentage of residents with an Associates Degree or higher, and the Minneapolis-St.Paul Metro specifically ranks 8th. Not only does the job market and economy attract educated people to work in the numerous industries, but the quality and accessibility of our schools and higher education options are excellent.
Minneapolis Public Schools
All public school students in Minneapolis are a part of the Minneapolis Public School System, making it the 2nd largest district in the state. Not including charter or magnet schools, Minneapolis Public Schools has 63 elementary schools, eight middle schools, and seven high schools.
With a strong focus on preparing students for life in a global community, schools in the district expand on core curriculum to include learning other languages and providing exposure to the arts as well as providing a safe, welcoming environment for all students.
St. Paul Public Schools
All public school students in St. Paul are part of the St. Paul Public Schools District, which just recently passed Minneapolis Public Schools as the largest district in the state. There are currently 38 elementary schools, 13 middle schools, and 7 high schools.
St. Paul Public Schools seeks to provide an inclusive culture while inspiring students to think critically and achieve academic success. This district is known for a diverse population and cutting-edge academic programs.
Suburban Schools Around the Twin Cities
Not only do the Twin Cities' schools excel, many of the suburban school districts have been recognized for excellence! Check out the Great Schools website to learn more about which school district is right for you!
Colleges and Universities in Minneapolis-St. Paul
Not only do the schools surrounding Minneapolis – St. Paul prepare students for a higher education, they won't have to go far to achieve it. The Twin Cities is home to a number of colleges and universities, including:
University of Minnesota
Metropolitan State University
Minneapolis Community and Technical College
St. Catherine University
University of St. Thomas
Augsburg University
Hamline University
The large amount of colleges and technical schools has helped stimulate job growth in the area, especially in the technology sector.
Minneapolis-St.Paul Is a Leader in Arts and Culture
Minneapolis and St. Paul are teeming with museums, theaters, and cultural centers. In fact, the Twin Cities are considered the cultural center of the Midwest. Museums and theaters include:
Minneapolis Institute of Art
Weisman Art Museum at the University of Minnesota
Museum of Russian Art
AZ Gallery
Guthrie Theater
New Century Theatre
Minnesota Orchestra
There are also a multitude of museums and theaters geared toward children, providing an opportunity for our youngest residents to get involved in the arts at a young age!
Enjoy Year Round Outdoor Recreation
Minnesota is the Land of 10,000 Lakes, and the Twin Cities is home to several of them. With beautiful lakes, ample green space, and the Mississippi River winding its way through both Downtown Minneapolis and Downtown St. Paul, it's no wonder residents love to get outside and enjoy the beautiful scenery!
Chain of Lakes
The Chain of Lakes in Minneapolis consists of Bde Maka Ska (formerly Lake Calhoun), Cedar, Lake of the Isles, Brownie, and Harriet, is fun all year long! The Lakes feature sandy beaches and pristine blue water that's perfect for swimming, sailboating, and kayaking, and docks that are ideal for fishing. Plus there are miles of walking and biking trails and stunning views of the city skyline while the Bandshell at Lake Harriet features live concerts all summer long.
Minnehaha Park
Featuring a stunning waterfall, Minnehaha Park lies between Minneapolis and St. Paul along the Mississippi River. With hiking trails that go around the falls and through the forest, visitors experience picturesque views. The off-leash dog park makes it especially popular with residents.
Minneapolis Sculpture Garden
Located in Loring Park, near Downtown Minneapolis, the Minneapolis Sculpture Garden spans 11 acres and has a conservatory, an arbor, and 40 brilliant sculptures by modern artists.
Battle Creek Regional Park
Battle Creek Regional Park is a vast area in St. Paul that offers a massive playground, hiking, biking, and walking trails, plus a dog park and water park.
Como Park Conservatory and Zoo
With indoor and outdoor exhibits, you can enjoy St. Paul's Como Zoo and Conservatory all year long. The Conservatory features 13 unique rooms filled with lush tropical plants, orchids, and seasonal trees and flowers and is perfect for those longing for greenery during the long winter!
The Como Zoo also has indoor and outdoor exhibits, including large cats, primates, and aquatic animals. The Zoo and Conservatory are located in Como Park that also features a lake, golf course, plus Como Town, with rides and attractions for children.
While these outdoor spaces are booming in the warmer months, the Chain of Lakes and other parks also busy in cold months! With ice fishing, cross-country skiing, and sledding available, there's no reason to be cooped up inside when it's cold. This dedication to the outdoors may be a reason why Minneapolis-St. Paul is one of the healthiest places in the United States!
Ready to Look at Homes for Sale in Minneapolis-St. Paul?
If you are ready to make the Twin Cities your home, finding a place to call home is your first step, and Stutsman Realty, Inc. can help you take it. Since 1992, we've connected native Minnesotans and newcomers to the area with their dream home, whether they are looking for a condo in the heart of the city or a house in the suburbs! Call us today at 952-927-4144 or fill out our contact form to get started!